Specialist Leaders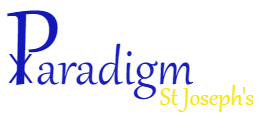 Specialist leaders of education (SLEs) are strong middle leaders, who have experience of effectively supporting and developing colleagues. They are experts in their field. SLEs work through teaching schools to provide high quality support to those who need it most.
Interested in joining our team of Specialist Leaders at Paradigm?
Paradigm will be interviewing at intervals through the year. Please contact us to have an informal discussion at any time on paradigm@stjosephs-epsom.surrey.sch.uk.
Through Paradigm, we have our own Specialist Leaders of Education:
Elaine Tobitt
SLE for Religious Education

Read Elaine's profile here

Finula Farr
SLE for ITT

Read Finula's profile here

Jenny de Sausmarez
SLE for Music

Read Jenny's profile here

Jo Cullen
SLE for Maths and Phonics

Read Jo's profile here

Jacqui Shabankareh
SLE for SEND

Read Jacqui's profile here

Marianne McDonnell
SLE for EYFS

Read Marianne's profile here

Fiona McGrath
SLE for English and Maths

Read Fiona's profile here